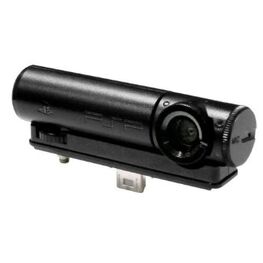 The PSP Camera (model PSP-300) is a digital camera peripheral by Sony Computer Entertainment for the PlayStation Portable handheld video game system. In Japan, it was released as the Chotto Shot (ちょっとショット, "Quick Shot") on November 2, 2006.[1] In Singapore, the PSP Camera released on the same year. For PAL territories, it is named the Go!Cam, and was released May 25, 2007.[2]
The camera mounts atop the Sony PSP via the USB connection slot, and a screw. It is a 1.3 megapixel camera, meaning it takes photographs with a resolution of 1280 x 960 (5" x 7" printed), similar to cameras found in cellular phones. The camera is able to record video with audio. On August 22, 2007, Sony Computer Entertainment Europe announced at the 2007 Leipzig Games Convention that instant messaging software (branded Go!Messenger) (released February 29, 2008) allows the Go!Cam to be used for video conferencing and voice chat.[3] The Camera was annouced a CES 2008 but has not been released in North America yet.
The Chotto Shot, aka "Go!Cam", has a built-in microphone that also can be used with the Talkman program and others.